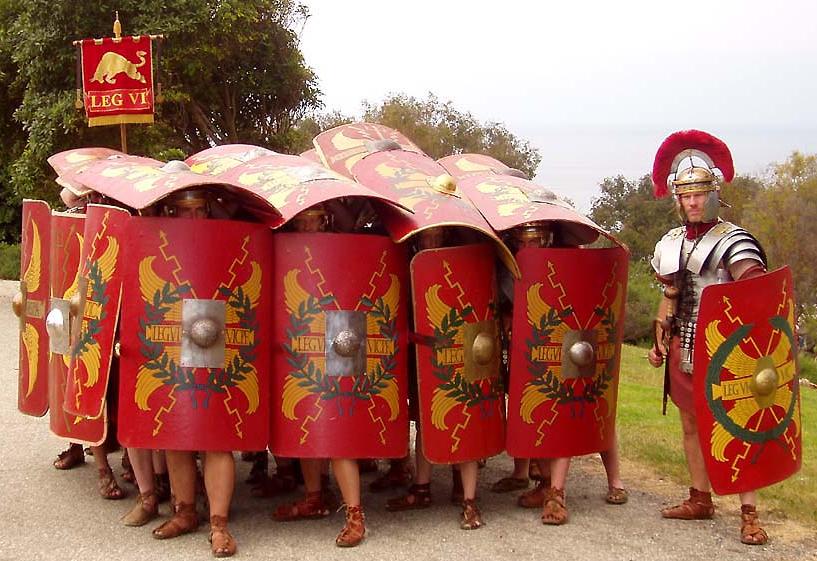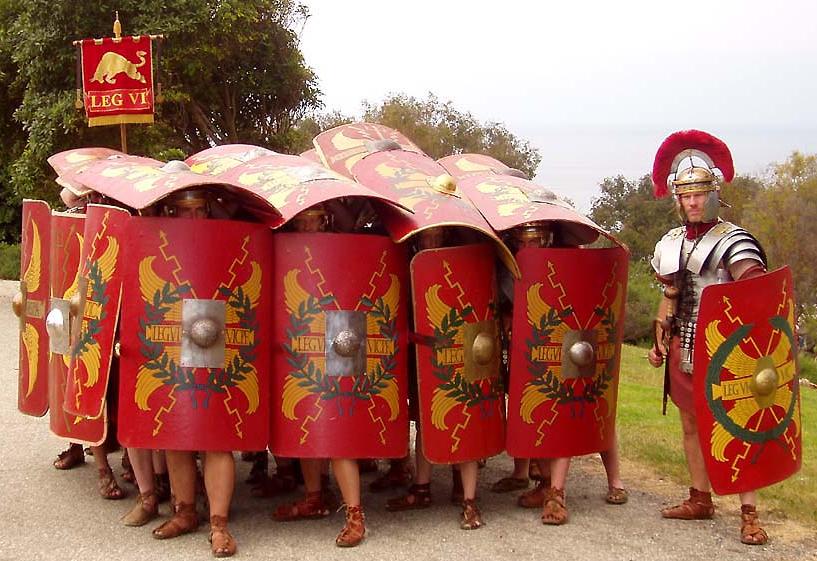 Ephesians 6:16
Above all, taking the shield of faith, wherewith ye shall be able to quench all the fiery darts of the wicked.
So far, we have put on our belt of truth (the word of God), our breastplate of righteousness (toward God through Christ and through striving to live a holy life before our neighbors) and covered our feet with the preparation to share the Gospel. The next piece of armor serves as the first-line of defense and covers the whole body. The shield. For the roman soldier, this shield (called a scrutum in case you were wondering) was as large as a door and protected from head to toe. They were covered in hide and would be drenched with water so if a fiery arrow hit it, the fire would be extinguished. For the Christian, this shield is our faith.
Paul begins this verse by saying "above all". Our faith is what covers all the other pieces of armor. As a matter of fact, it is the shield that people saw first and they would be painted to show what unit they belonged to. Our faith in Christ, as we live out what we believe, should be what people see first as it identifies us for who we are. Consider this, each part of the armor that we have talked about so far can be hidden from view by covering it with clothing. We can have on the belt of truth and know the word of God, yet never talk about it. We can have on the breastplate of righteousness and just be seen to be moral individuals if we don't tell people the source of our righteousness. We can be prepared to take the Gospel to world, yet never find the time to do so. But when we live out our faith, it stands as a blazing emblem of what we are and Who we serve.
Paul draws the picture of an enemy archer firing arrows at us. His quiver is full and each arrow has a name: impurity, selfishness, doubt, fear, disappointment…Each flaming arrow is sent toward us with the goal of destroying our shield (faith) so that his attacks can get closer to the target, our hearts. If he can get through our faith, he can cause us to doubt our own salvation. Defeated. He can cause us to lose sight of God's grace in the face of our own sin. Defeated. He can cause us to even doubt the truth of God's word. Defeated. However, when we put substance (flesh) to the hope we have the promises of Christ…Victory! When we put our trust in God's goodness and grace and show the evidence in our lives of what we can't see…Victory! (Hebrews 11:1) The shield is made up of our faith in the promises and truth of God. When the arrow of impurity hits, it is extinguished by the desire to please God with our lives (Psalm 19:14). When the arrow of doubt hits, it is extinguished by the promise that God is faithful no matter what (2 Thessalonians 3:3). When the arrow of fear hits, it is extinguished when we are reminded that nothing can separate us from the love of God (Romans 8:38-39). Each arrow falls uselessly to the ground as we advance forward in faith.
Another side note about our shield. There were times for the roman soldiers that they had to work together for their protection because of the amount of arrows coming their way. So they would link their shields and form a protective shell over the entire group. It was called the "testudo" or tortoise formation. Each person used their shield in cooperation as they moved forward toward the enemy. Where one man would be defeated easily, the group could work together to get the victory! Do you get the picture? This is one of the reasons why it is so important for us to surround ourselves with other Christians as a local body of believers. We are able to join together, to build each other up, to push forward as a body of believers. Are you discouraged today? Do you feel defeated? Does it feel like you are going at it alone and the arrows are starting to get through? Maybe it is because you have been trying to fight a one man war, when you have a legion of warriors who can step in the battle with you, link their shield with yours and give you the support you need to press forward to victory!
Today as we ReFocus our hearts and minds on Christ let us take up our shield of faith. We must trust in the promises of God when the attack comes and be confident in the truth that the one who placed you on the battle field is there with you and will see you through it (Philippians 1:6). And when the fight gets too much, remember you are never alone. When we all work together in faith, we can press forward in Christ and realize the victory that awaits!
---